For all kayaking enquires contact timfreeman61@googlemail.com 01803 832663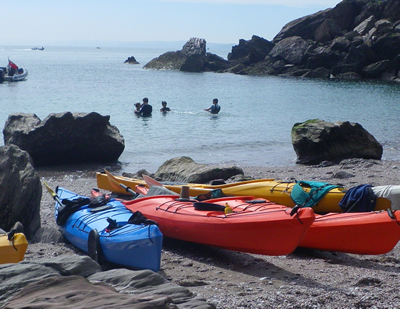 Programme Facebook Our fleet Why you should join Video Tides
Taster Sessions for visitors How to find us River Guide Sit on Top kayaks
Welcome to
Kayaking
Canoeing
Paddleboarding
Latest Information April 11th 2021
New member? send an email to Tim as above saying you want to start using club kayaks/paddleboards. For sailing dinghies or motorboats or PB2 courses email Gareth using rcsailing@dartmouthyachtclub.co.uk

Start Paddling? Now is a good time for members to make contact if you want to start using kayaks or paddleboards.
What boats can be used at the moment? Club sit on top kayaks, sea kayaks and paddleboards can all be used if you are an approved user. You can paddle in groups of 6 with all in the group being from different households Note the changing rooms at the club are still closed. For this reason most sit in kayaking is being done in the sea kayaks kept in coronation park rather than the shorter kayaks in the clubhouse. Sit on top users must provide their own buoyancy aids from now on, the ones in the cupboard in the park may be used for your visitors. If buying buoyancy aids Yak or Palm brand are best and for sit in kayaks these brands are the only ones suitable.

For all kayaking enquiries please email Tim Freeman timfreeman61@googlemail.com
phone number 01803 832663
.