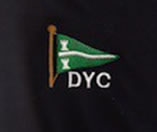 We are pleased to be able to offer a range of clothing and accesories most of which can be personalised with the club logo. In addition much of the clothing can be further personalised with boat name or even crew positions. Please click on the link for the appropriate brochure:
Please select your items and order direct with Ravenspring Ltd.
---
Why not consider giving a club membership as a Christmas gift?
Memberships will be valid from 1st February 2018 and will be due for renewal on 31st March 2019, giving 2 months free membership. Gift certificate available.
Please contact our Membership Secretary for further information via post@dartmouthyachtclub.co.uk