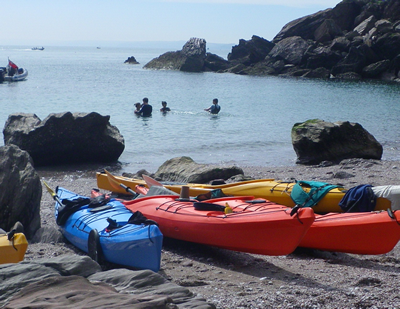 Programme Facebook Our fleet Why you should join Video Tides
Taster Sessions for visitors How to find us River Guide Sit on Top kayaks
Update 21st May 2020.
The recent easing of the lockdown means we are now able to do some paddling again.

What is possible at the moment is for members to paddle with those from their same household, It is also possible for two people NOT of the same household to paddle together but not more than two. This means ....

Sit on Tops
It so happens that learning for these boats is all done online anyway, no face to face training is required. You can quickly become an approved user of sit on tops by watching three videos, reading a user guide, a tide guide, then signing a form. Hence these are very accessible at the moment. It would be great to see some families with children all going for a paddle together, yes thats allowed. Maybe they would use a double kayak for smaller children (eg child in front mum in the rear). Join for £104 and a family can do that sort of paddle. Retired couples can paddle together, using two singles or a double as they prefer. So can two ladies who are friends, or two gentlemen, etc etc.

Paddleboards
We have 6 boards in a new very easy to access rack in the club garage. The local school will give you an intro lesson 1-1 for about £40. Then you are an approved user and can go out as much as you like. So paddleboards are very usable now.

Sea Kayaks
We are doing some training of new members in sea kayaking even under the corrent restrictions. We are doing this 1-1 with an experienced paddlers taking the new members out and teaching them the basics. There is no charge for these sessions. Our capacity is a bit limited with the 1-1 ratio restrictions, but we will try hard to get you started with the sea kayaks if you are interested.

Group Paddles
We cannot do the group paddles on tues/thurs/sun or tourist taster sessions, those are suspended until there is a further relaxation, all our teaching is moving to 1-1. If we have sent you a welcome document re paddling do not the group sessions mentioned in that will restart at some stage - but this will be when there is an appropriate relaxation in the social distancing rules. Whilst capacity is lower using 1-1 teaching we will try to get keen new members learning as soon as possible.

Buoyancy aids
We are not permitting our pile of B/Aids to be used normally at present. Shared use is not permitted. We are however loaning them on a medium term loan to the needy. For those who can afford to buy their own we recommend Kayaks and Paddles in Ivybridge who sell the Yak Kalista b/aid for about £40, they have lots in stock and you can click and collect or do mail order.

Wetsuits
The position with wetsuits is very similar, no shared use but we will loan to the needy. The Palm Quantum from a website called wetsuitoutlet.co.uk is a good style of wetsuit (long john style is preferred to a shortie).

Please contact Tim F for advice or questions. Phone 07792 620176

For all kayaking enquiries please contact Tim Freeman timfreeman61@googlemail.com
phone number for contact 01803 832663
.