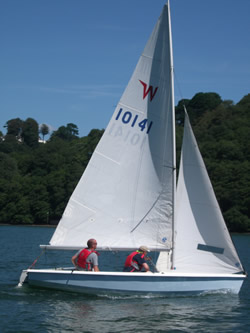 Our Dinghy Sailing Team
Tim Vaughan: Rear Commodore Sailing
Anne Walton: RYA Principal
Joe Wellerd: Chief Instructor
Supported by
Terry Phillips: lead Junior Dinghy
Christine Phillips: lead Adult Dinghy
Shirley Tonkin: support for fundraising.
Any of the above can be contacted using the contact form.
Members Sailing for 2018
The club's fleet of dinghies, Toppers and a Wayfarer, are all stored in Coronation Park for easy access to the higher slip and all are free for members' use. We just ask that you contact us to be added to the approved user list and that all juniors have safety boat cover when sailing.
The Tuesday evening clubs sails will be started in May, look our for dates on the club email
We have a good team involved with dinghy sailing but are always looking for volunteers to help with a range of things from maintenance, co-ordination or just a pair of hands, If you'd like to be involved please contact us!
As ever, all club organised dinghy sessions will have safety boat cover and we will continue to offer all training at cost to our members, making it as affordable as possible.
As you know all dinghy activities will begin to be published via club emails and listing on the DYC website's calendar so please keep your eyes out, as sessions often fill very quickly.
We are submitting an application for Sport England Funding to support the further development of both the Junior and Senior dinghy sailing squads. If successful the grant will mean that the club can buy a second safety boat, doubling our Junior training capacity, a dinghy road trailer to get our more advanced Juniors competing around the region and importantly more safety boat skills training for our volunteer safety boat drivers.
Success in this application, along with the club's purchase of 3 additional Topper dinghies, will make a huge difference and the Commodore and Committee are grateful to Cllrs Hawkins and Rowe, the Harbour Master and the many partner organisations who supported us in this application. The outcome of which should be known by the end of May.
Until we can offer this further capacity our 2018 junior sailing programme is unfortunately already full but we hope to be able to offer more spaces later in the summer. All training opportunities will be advertised to members by club email.
Junior Regatta Sailing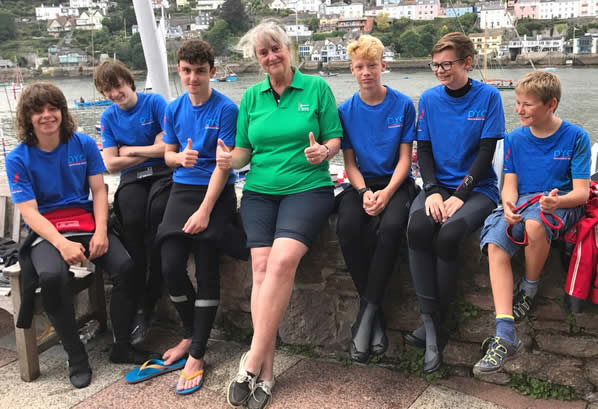 Our junior sailors at Regatta with Commodore Kate Brown. Photo and team shirts courtesy of Theresa Hart.
Sailors from left to right are - Ben Tonkin, Izak Hemings, Theo Hart, Miles Jones, Hope Jones and Harvey Tyrell.